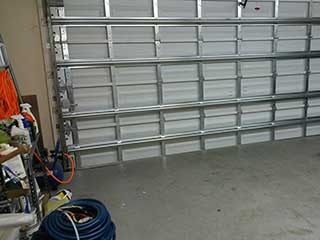 Keeping garage door problems at bay may seem difficult, but it can be really simple, as long as you have professionals – like our trusty team – maintain it. We can make sure that all of the different components are functional and that no minor issues are lurking about, waiting to grow into major malfunctions. Making sure your system is maintained on a regular basis has a lot of benefits, chief among them is a significant increase of the system's longevity. Another added benefit is that you'll save money on costly repairs.
Catching Dangerous Problems Early
When a garage door spring breaks, all the tension that was stored inside its coils is suddenly and violently released. If you, or any of your family members, happen to be standing nearby when that happens, you could get seriously injured. To avoid this type of scenario, timely spring replacement is required. Our technicians will inspect these components for deformations, and replace them if we find they're about to break. If they're still functional, we'll lubricate them to ensure their efficiency, and adjust their tension too, if we find that the door is getting unbalanced.
What About The Opener?
This device controls the opening and closing of your garage door, and therefore it must be examined and tested to make sure using it is still safe for you and your family. We'll check the alignment of the safety sensors to see to it that the opener doesn't fail to detect a person or an object in the door's path. We'll also test the auto-reverse mechanism to ensure that the door opens back up if it touches an obstacle.
Just Give Us a Call
Whether you want to schedule a maintenance appointment, or you find yourself in need of emergency repair services, you can always rely on our team. Contact Garage Door Repair Missouri City and let us help you with whatever you need.
Give our team a call if you need help with:
Garage Door Cable & Track Repairs
Screw Drive Opener Replacement
Oil Tempered Torsion Springs
Garage Door Tune Up Services