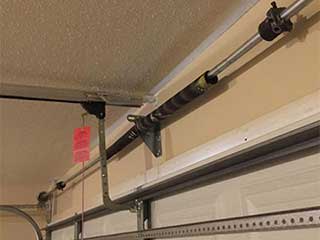 Any piece of equipment that works as hard as your garage door springs can be expected to wear out with time. Our expert technicians are able to identify problems, carry out repairs, and provide a full set of maintenance services to prevent accidents and unexpected breakdowns.
Different Types Of Springs
There are two types of springs used in overhead door systems. Torsion springs use torque in order to pull the door off the ground. They're strong and tough, and usually only one is required for most residential garage doors. Extension springs work by extending as the door is closed and then contracting in order to get it to open. They're generally weaker and less reliable, and are more likely to whip around when they break. Each type is better suited to different conditions, such as limited space availability, or heavy door panels.
Spring Service And Maintenance
As with all parts of your overhead door system, proper maintenance is the key to extending the service life of these components. During our routine service appointments, our technicians will help keep your door in good working order by performing spring lubrication, which will help these components move smoothly and protect them from corrosion. We will also perform spring adjustment when necessary, ensuring that the door stays completely balanced.
The Need For Professional Assistance
Don't be tempted to carry out any repairs or maintenance work by yourself. Our technicians are highly trained and can safely replace or adjust any type of spring; the tension contained within these components can be extremely dangerous, and we strongly advise contacting us if you're experiencing any issues. If one of these components breaks, your door will slam shut and you most likely won't be able to open it. When that happens, our team can quickly come over and install a new spring for you without putting anyone at risk.
Contact Our Team
If your garage door springs have broken and need to be replaced, or if you're simply interested in having them undergo some professional maintenance, our team is ready to help. Contact Garage Door Repair Missouri City now to find out what we can do for you.
Need more? We also provide:
Roll Up Garage Door Services
New Opener Remote Controls
Garage Door Cable Replacement
Torsion & Extension Spring Adjustment