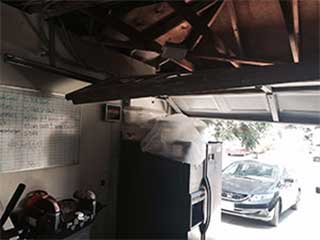 There are dozens of different components that make up your overhead door system, all of which have to be able to work perfectly together. The springs, opener, and the rollers, to mention a few parts, can all develop issues over time, which means there are many ways a garage door can malfunction. Our technicians have worked with every make and model out there, and know how to quickly identify what the problem is and how to fix it.
Spring Related Problems
One of the most common issues that garage door systems develop is worn-out springs. Due to the fact that they support and counterbalance the weight of the panels on a daily basis, over time, these components will begin to weaken. An average door can easily weigh upwards of two hundred pounds, and might be opened and closed more than a thousand times a year. This can cause all sorts of problems, especially if the springs actually break, which will make the door impossible to use. If your door is struggling to support its weight, or is wobbling a lot while it moves, spring replacement may be required. Contact our technicians to have them take care of it. Garage door springs can be incredibly dangerous when mishandled, so never try to replace them by yourself.
Identifying And Repairing Malfunctioning Openers
The opener is the most complicated part of the entire garage door system. In many ways it's the brain and the brawns of the mechanism; it uses photoelectric safety sensors to know when there's an obstacle blocking the door's path, and produces the necessary horsepower required to initiate the movement of the panels. Like any complex machinery it can be difficult to tell what the problem is if your opener stops working; it could be a glitch in the circuit board, a broken or worn out motor gear, misaligned sensors, or a number of different issues. Because our technicians have a lot of experience dealing with these electro-mechanical devices, they're able to quickly work out what the problem is, and then immediately solve it.
Issues With The Panels
Due to the fact that they are constantly exposed to the elements, your garage door panels may become dented or cracked over time. Eventually, they will need to be replaced, as rust or rot can develop. Luckily, if you have a sectional garage door, only the affected sections will need to be replaced. Our technicians will find and install panels that will be of a matching color and design, so as to preserve the curb appeal of your door.
Contact Our Team Today
Give our experts at Garage Door Repair Missouri City a call if you're having trouble with anything from the tracks to the opener. We're always ready to help every local homeowner with any problem they may experience.
Count on our team for:
Garage Door Opener Maintenance
Belt Drive Garage Door Openers
Broken Spring Replacement & Repair
Emergency Garage Door Services