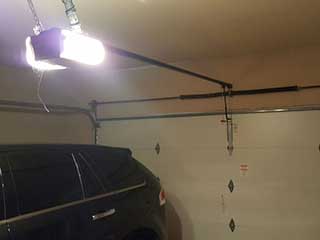 At the heart of your overhead door system is the opener. This unit is responsible for actually moving the door, and is the most complicated piece of equipment in your garage door system. It can develop a number of different issues over time, from faulty wiring to broken motor gears. It's important to have these issues addressed as soon as they arise. Our technicians can solve any problem you're experiencing, and can provide top-quality maintenance service as well as a replacement unit if needed.
Installing New Units
If you're installing a new opener, it's essential to have it assembled and calibrated by professionals. These complex units consist of many electro-mechanical parts that must be perfectly engaged with the rest of the system. Our technicians can carry out the installation process from start to finish - we guarantee that you'll be happy with your new opener, and that it will give you a smooth, reliable service. We also offer safety sensor adjustment, ceiling blocking, trolley and railing installation and drive tests.
Which Opener Is Right For Me?
There are several varieties of opener available on the market today. Firstly, there are chain drive units, which are affordable and durable but make a lot of noise while they work. Then there are screw drives, which are also durable and long-lasting but require much less in the way of maintenance. Finally, belt-drive units cut down the noise level considerably, and are the top choice for garages with bedrooms nearby.
Additional Opener Features
We work with the top brands in the industry, including Chamberlain, Liftmaster and Genie. These innovative companies have introduced many new features to their product lines in recent times, such as rolling remote code technology. These openers generate new codes each time they're used, meaning that would-be thieves can't duplicate the signature of your remote, giving you greater home security.
Repair And Maintenance Services
If your existing unit isn't performing properly, our team of technicians will be able to repair it. We can fix anything from a faulty circuit board to broken wiring, and our team can usually replace broken components on the spot.
Why Wait? Contact Us Now
If your opener needs to be fixed, or if you need a new one installed, we're the team for the job. Contact Garage Door Repair Missouri City today in order to schedule an appointment.
But wait, there's more! We also offer:
Garage Door Troubleshooting Services
LiftMaster Garage Door Opener Repairs
Galvanized Torsion Spring Replacement
Bent Garage Door Track Repair